DieBuchSuche - die Suchmaschine für alle Bücher.
Alle Bücher für 9789811000850 - jedes Angebot vergleichen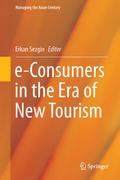 e-Consumers in the Era of New Tourism
(?)
ISBN:
9789811000850 (?) bzw. 9811000859
, in Deutsch, Springer-Verlag Gmbh, gebundenes Buch, neu
Versandkostenfrei
Von Händler/Antiquariat
e-Consumers in the Era of New Tourism: This book focuses on the role of e-consumers and e-marketing in the era of new tourism. It addresses themes such as the tourism `prosumer` at work, the evolution of tourism services, the collaboration and co-creation, as well as the e-complaint behavior of e-consumers in tourism. It also discusses topics such as mobile marketing, gamification as a marketing communication tool, the impact of social media on tourism consumers, and the use of e-loyalty programs in the accommodation sector. Students taking e-marketing and market research courses in tourism can use this work as a source book for the principles of new marketing management. e-Consumers in the Era of New Tourism serves as a helpful resource for practitioners, as well as researchers and students of e-marketing. Englisch, Buch
Bestellnummer des Händlers: 9789811000850
Bestellnummer bei der Plattform Rheinberg-Buch.de: 18889_229626_9789811000850
Daten vom 21.10.2016 15:06h
ISBN
(andere Schreibweisen): 981-10-0085-9, 978-981-10-0085-0
9789811000850
Finden Sie alle lieferbaren Bücher zur ISBN-Nummer 9789811000850 einfach und schnell und können die Preise vergleichen und sofort bestellen.
Lieferbare Raritäten, Sonderausgaben, Restposten und gebrauchte Bücher sowie antiquarische Bücher des Titels "e-Consumers in the Era of New Tourism" von Erkan Sezgin werden vollständig erfasst.
racheopfer buch mathew lovel frauenheld